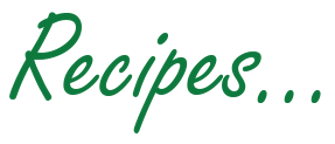 Take a look at some of our delicious and nutritious recipes that make use of our beautiful Hawke's Bay fruit and vegetables.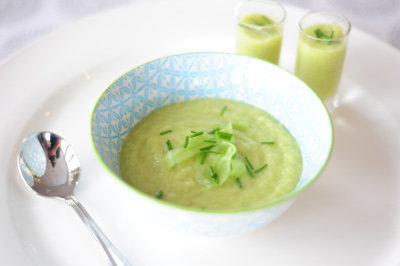 Refreshing gazpacho
Serves 4
2 cups of diced Shamrock melon
1 Avocado – peeled and chopped
1 small Lebanese cucumber peeled and sliced
(keep aside a few slithers of cucumber for garnish)
1 small onion finely sliced
1 green chilli pepper – seeded and finely chopped
1 clove of garlic
2 tbsp lime juice
2-3 tbsp Chives finely sliced (to use as garnish)
Salt and pepper to taste
Blend Shamrock melon, cucumber, onion, avocardo, chilli, garlic, lime juice salt and pepper in a blender until smooth. Adjust salt and pepper to taste. Chill before serving and garnish with slithers of cucumber and chives.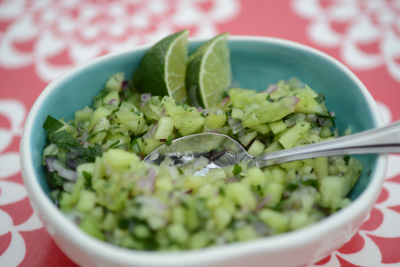 Fresh zesty salsa
Serves 4
1 ½ cups very finely diced Shamrock melon
1 small red onion finely chopped
2-3 tbsp finely chopped fresh coriander leaves
Zest of one small lime
1-2 tbsp of lime juice
Place melon in a bowl and discard any juice that accumulates before adding all of the other ingredients. Add salt and pepper to taste.
A fabulous accompaniment to Seafood and poultry dishes.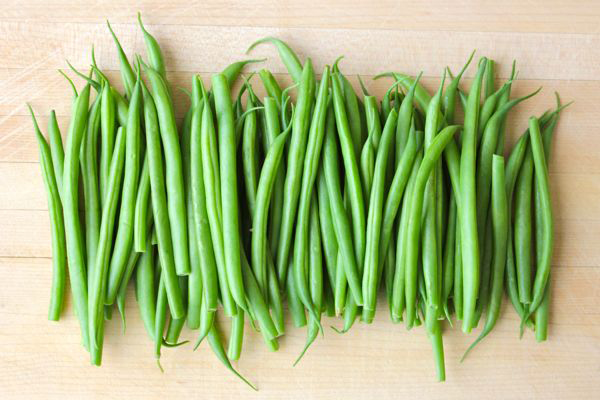 Zesty Green Beans
Great as a side with steak or fish.
250gm Lovebite green beans (rinse and nip ends off)
2 tbsp Extra Virgin Olive oil
Zest of 1 Lemon (finely grated)
1 tsp Sea salt flakes & ground black pepper.
Boil or steam beans for 2-3 minutes. Drain and cool under cold water. Heat the oil to a
medium heat with the lemon zest, add the beans and salt and pepper. Stir fry for 2-3 minutes.
Serves 4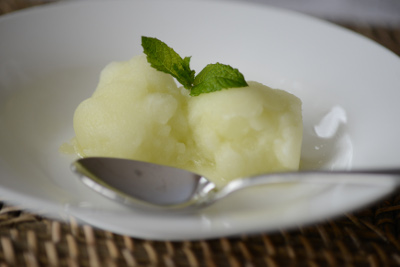 Sweet Melonie Sorbet
Serves 6-8
450 gm Sweet Melonie Puree
150 gm of sugar
200 ml of water
lemon juice from about ½ lemon, depending on taste (optional)
Mint to garnish
To make the sugar syrup put the water and sugar in a pan and gently heat, stirring. Once the sugar is dissolved leave it to cool.
Prepare the melon puree. Cut melon into cubes after removing the seeds and skin. Place in the food processor until the melon becomes smooth.
Whisk together the sugar syrup and fruit puree.
Pour into your ice cream machine to churn for approximately 20-40 minutes or according to your ice-cream machine's instructions.
If you feel the sorbet may be too sweet for you, add the lemon juice to the base before churning.
Garnish with mint and serve immediately, or freeze in a sealed container.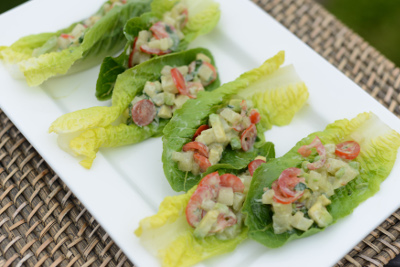 Fresh melon and cos nibbles
(Also use as a starter or as a side dish served with your favourite fresh fillet of fish)
Makes 12
12 small whole cos leaves – washed and trimmed (use larger leaves if making a side dish)
2 cups of finely diced Sweet Melonie
1 large avocado finely diced
12 sweet cherry tomatoes finely sliced (sit on a paper towel to get rid of the excess liquid)
2 tbsp basil leaves finely shredded
2 tbsp lemon juice
2 tbsp greek, non-sweetened yoghurt
Salt and pepper to taste
Drain any liquid from the diced melon and put into a bowl with the avocado, tomatoes, mint, lemon juice and yoghurt. Gently combine and add seasoning to taste. Spoon mixture into the cos leaves making small boats of delicious flavour!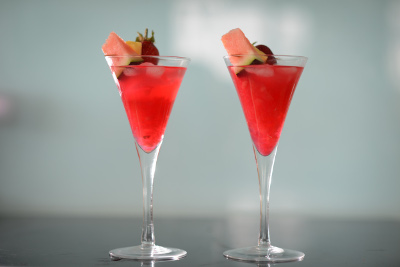 Watermelon Cosmopolitan
Serves 1
1 inch x 1 inch cube of water melon, frozen
1 cup Ice
30 ml Premium vodka
30 ml Cointreau
1 tbsp Grenadine syrup
1 cup Watermelon puree
Garnish Mini skewer of watermelon cube, pineapple wedge and small strawberry.
Place the frozen watermelon cube in the bottom of a chilled martini glass. In a cocktail shaker add ice, vodka, Cointreau, grenadine and watermelon puree and shake for 30 seconds.
Strain into the glass and garnish with the skewer.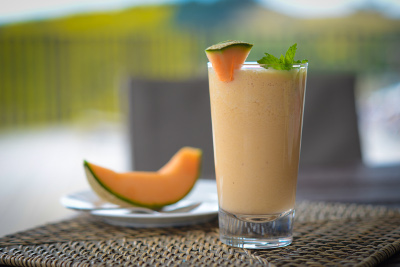 Rock-nana smoothie
Serves 2
1 banana (chopped)
1 1/2 to 2 cups rockmelon (chopped)
1 large scoop of vanilla ice cream
1/2 cup of milk (or coconut/rice milk)
1 tsp of maple syrup or honey
Throw all ingredients into blender and blend until smooth.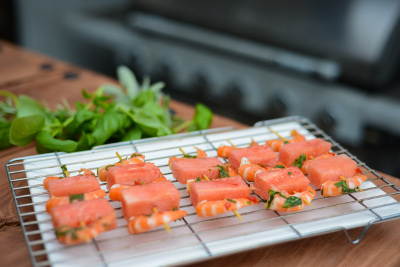 Watermelon & prawn skewers
Makes 12 skewers
12 Bamboo skewers (soak in cold water for 10 minutes)
36 Large prawns, cleaned and deveined
½ Watermelon
1 Chilli pepper finely chopped (or half depending on your taste)
3 tbsp Olive oil
½ cup Chopped mint leaves
½ cup Chopped basil leaves
2 Limes (lemons can be used)
1 tsp Salt
Marinate prawns in chilli, olive oil, mint, basil, salt and the juice of one lime.
Slice watermelon into 24 rectangles (about 3cm long, 2cm wide and 2cm thick), sprinkle with salt and drizzle with a small amount of olive oil.
Assemble prawns with 2 watermelon rectangles, and 3 prawns per skewer (as shown).
Lay skewers on a tray and drizzle lightly with olive oil, the juice of 1 lime and a pinch of salt.
Place skewers on a hot grill. Grill for 10-15 minutes, turning several times.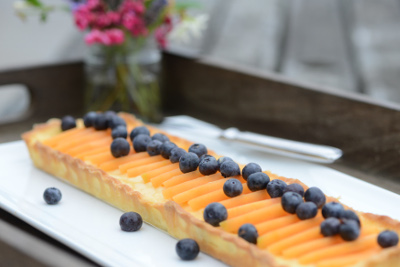 Rockmelon custard tart
Serves 6
2 sheets ready-rolled shortcrust pastry, partially thawed
1/2 (500g) rockmelon, peeled, seeds removed, quartered, thinly sliced
blueberries, to serve
Custard
egg yolks
1/3 cup caster sugar
1 tsp vanilla extract
2 ½ tbls cornflower
2 cups milk
Custard: Whisk egg yolks, sugar and vanilla together in a bowl. Stir in cornflour. Slowly add milk, 1/4 cup at a time, stirring constantly. Pour mixture into a saucepan over medium heat. Cook, whisking constantly, for 8 to 10 minutes or until mixture boils and thickens. Boil for 1 minute. Pour into a heatproof bowl. Cover surface with plastic wrap. Allow to cool. Refrigerate for 1 hour or until cold.
Place a large baking tray in the oven. Preheat oven to 200°C.
Line base and sides of a 2.5cm-deep, 11.5cm x 34cm (base) loose-based tart pan with pastry. Trim excess pastry. Place pan in freezer for 20 minutes or until frozen.
Place pan on hot baking tray. Bake for 20 minutes or until pastry is light golden and cooked through. Transfer pan to a wire rack to cool completely
Spread custard over base of pastry case. Arrange melon over custard. Serve with blueberries.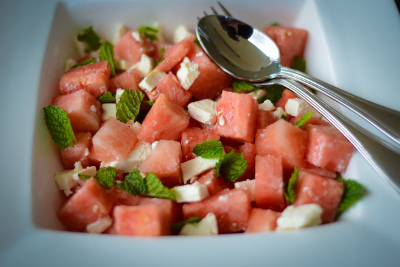 Deliciously simple watermelon & feta salad
Serves 4
Watermelon – Medium sized
150g Cows milk Feta
10 -12 Small mint leaves
Extra virgin olive oil
Dice about quarter of the watermelon into 2-3cm cubes and put in a bowl. (If you don't have a seedless watermelon take out most of the black pips)
Dice the feta into 1-2cm cubes (or crumble if you prefer) and add to the watermelon.
Tear the mint leaves between your fingers and gently combine all of the ingredients.
When ready to serve add a drizzle of good quality olive oil to the salad.