Zesty Green Beans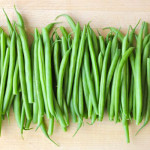 Great as a side with steak or fish.
250gm Lovebite green beans (rinse and nip ends off)
2 tbsp Extra Virgin Olive oil
Zest of 1 Lemon (finely grated)
1 tsp Sea salt flakes & ground black pepper.
Boil or steam beans for 2-3 minutes. Drain and cool under cold water. Heat the oil to a
medium heat with the lemon zest, add the beans and salt and pepper. Stir fry for 2-3 minutes.
Serves 4