Watermelon & prawn skewers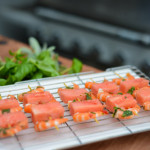 Makes 12 skewers
12 Bamboo skewers (soak in cold water for 10 minutes)
36 Large prawns, cleaned and deveined
½ Watermelon
1 Chilli pepper finely chopped (or half depending on your taste)
3 tbsp Olive oil
½ cup Chopped mint leaves
½ cup Chopped basil leaves
2 Limes (lemons can be used)
1 tsp Salt
Marinate prawns in chilli, olive oil, mint, basil, salt and the juice of one lime.
Slice watermelon into 24 rectangles (about 3cm long, 2cm wide and 2cm thick), sprinkle with salt and drizzle with a small amount of olive oil.
Assemble prawns with 2 watermelon rectangles, and 3 prawns per skewer (as shown).
Lay skewers on a tray and drizzle lightly with olive oil, the juice of 1 lime and a pinch of salt.
Place skewers on a hot grill. Grill for 10-15 minutes, turning several times.