Watermelon Cosmopolitan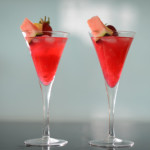 Serves 1
1 inch x 1 inch cube of water melon, frozen
1 cup Ice
30 ml Premium vodka
30 ml Cointreau
1 tbsp Grenadine syrup
1 cup Watermelon puree
Garnish Mini skewer of watermelon cube, pineapple wedge and small strawberry.
Place the frozen watermelon cube in the bottom of a chilled martini glass. In a cocktail shaker add ice, vodka, Cointreau, grenadine and watermelon puree and shake for 30 seconds.
Strain into the glass and garnish with the skewer.